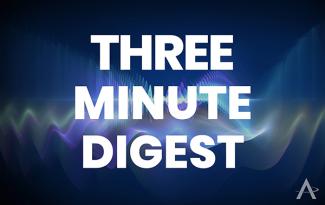 Three Minute Digest for July 15, 2022
A "Noisy" Market
When we say there is noise in the markets, it implies that there is extra news and information swirling around the fundamentals of long-term investing principles. Not that these issues are not of significant importance, or that we are indifferent to their impact on our friends and neighbors, whether they are local or global. The "noise" is more about the confusion that is created by a very disjointed period that confuses the market. We have mentioned repeatedly in our market comments that uncertainty is worse than the unwelcome news itself.
Bad News, Good News
The bad news is that uncertainty abounds and the information that we do know is not favorable. The good news is that we have an exceedingly elevated level of cash in our portfolios. Cash is a most strategic investment tool for long-term investors as we endeavor to limit the downside of the markets and seek to strategically reinvest at opportune times.
As written in previous comments, while the 'noise' revolves around whether there will be a recession by the general technical definition of two consecutive quarters of negative GDP – Gross Domestic Product growth. Our position is to simply say that it looks, feels, and sounds like a recession so let us just make it official. And we know that inflation is official since we have forty-year high inflation numbers. So, what we have is the worst of both worlds and that is "stagflation."
With the end of this second calendar quarter, we are entering "earnings season," when publicly traded companies announce earnings as well as their outlook for business.
Our expectations going forward:
Corporate earnings will be lower

The outlook for business activity will be lower

The Federal Reserve will likely hike rates by 0.75% to 1.00% at the July meeting

Like a seesaw, as interest rates rise, the value of bonds go down.

We exited most bond positions last year and early this year

Gas prices may stabilize but will remain at significantly elevated levels

Supply chain issues will continue to impact the economy; however, companies have built up inventory just as inflation is causing consumers to cut back on spending

Issues such as the Russian invasion of Ukraine, Covid, and the mid-term election season will continue to affect the market going forward
So, what we refer to as noise in the markets is real and impactful, and it can distract investors from the principles of long-term investing such as well-balanced asset allocations, strategic versus emotional decisions and most importantly, patience.
While we hesitate to sign off with "Have a Great Day" after this less than bright Market Digest, we remind you that we believe we have weathered the storm well thus-far and with a high cash balance will work hard to continue to do so going forward. With the markets at historic high just last year, we have weathered war, oil embargos, terrorist attacks, a mortgage crisis and more.
As always, please feel free to call with any questions or to review your portfolios. Thank you for the opportunity to serve you.