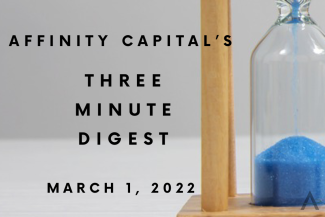 Three Minute Digest for March 1, 2022
The Russian invasion of Ukraine continues to dominate the news, as it should. As mentioned in an earlier Affinity Capital Digest, Vladimir Putin, at 70 years of age, may see this as his best opportunity to cement his legacy of Russian dominance over the former USSR satellite nations. However, it appears to us that he may have miscalculated the international response, the military aspects of invasion and hopefully, growing internal opposition.
The next Fed policy decision is following their March 15th & 16th meeting as inflation shows little signs of easing.
The price of oil continues to hover between $90 and $100 per barrel. The price of oil is a key element to both the Russia / Ukraine war and the ongoing battle with inflation.
As the Russian invasion will dominate the world stage this week, we will limit our further thoughts to this subject.
Russian Banking System
Several Russian banks have been removed from the SWIFT system of international banking, which has caused the Russian ruble to plummet versus the U.S. dollar. The Russian National Bank has hiked interest rates 20%.
What is the SWIFT system and why does it matter?
The Society for Worldwide Interbank Financial Telecommunications (SWIFT) system is a network used by banks and other financial institutions to securely send money transfer instructions as well as other communications to each other and conduct international business.
SWIFT was created by a group of American and European banks in 1973 to prevent a single institution from developing and controlling a vital international system. The network is now jointly-owned by more than 2,000 banks and financial institutions. It is overseen by the National Bank of Belgium, in partnership with major central banks around the world - including the US Federal Reserve and the Bank of England. While there are other alternative systems and methods to conduct international business, they pale in comparison to SWIFT.
Numerous key Russian banks have now been sanctioned, although some are calling for a total ban of all Russian banks. Care should be taken to avoid unintended consequences that would hurt Western economies in the process.
Internal Dissension
We believe Putin has grossly miscalculated the international response, the military aspects of invasion and hopefully, the growing levels of internal opposition. The Ruble is the currency of Russia. Its value is plummeting as citizens line up at ATM's and banks to withdraw their money. The Ruble is now worth 0.0092 versus one U. S. Dollar. Even Russian sports teams are being banned from international competitions. We can see this being framed as "Putin's War" … not a Russian war. Russians will ask "What is the upside for the Russian people, business, or even military conscripts?"  The likely answer is "nothing."
Our next Digest will look at the effects of inflation and international events on the markets and our Affinity Capital portfolios. A sneak peek:  While we are typically hard on ourselves, we are pleased with how our portfolios have held up during this market correction.
As always, please feel free to call with any questions. Thank you for the opportunity to serve you!