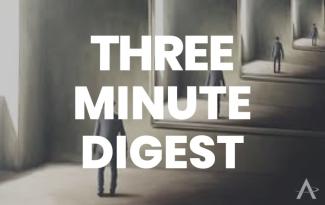 Three Minute Digest for November 3, 2022
It is baseball World Series time and that master wordsmith Yogi Berra of the New York Yankees, an 18-time all-star and 10-time World Series Champion said, "It's Déjà Vu all over again". With that in mind, as the fed again raises interest rates, the stock market again sells off.
The next meaningful event to move the markets are the mid-term elections next Tuesday. Politics aside, the markets have historically favored divided government, meaning no one party controls both the legislative branch and the executive branch. As we have stated many times, it is less whether you know good news or bad, it is the uncertainty of not knowing that concerns the markets.
Next, a number of economic reports are impacting the markets. Home sales are significantly down, and inflation and gas prices remain high but show signs of stabilizing. The price of natural gas as we near the winter months will be a shock to our friends in the north as well as in Europe.
The Dow Jones Industrial Average had a strong October, but the tech heavy Nasdaq was basically flat. There is an old market adage that says, "buy on the rumor and sell on the news." We believe that the October strength in the Dow may have priced in much of the expectations for this week's interest rate hike as well as the election season coming to a close. We watch with interest for the market reaction to the mid-term elections. Are we set for a "Santa Claus rally" through the end of the year or has a relatively strong October for the Dow put us at the top of a bear market rally.
Much of the strength in the Dow was energy stocks and to a lesser extent, financial stocks. Technology stocks remain a drag on the markets. To lift ourselves out of bear market territory, financials and technology must lead us. While we see just a few pockets of strength in financials, we are carefully watching the technology sector for continued weakness.
While attention to tax efficiency for your accounts is a year-round job, the month of November is the time we begin mapping out year-end transactions from now and into December. There is a saying, "Don't let the tax tail wag the investment dog." We do not want to misalign our investment portfolio simply for taxes. With that said, there are numerous strategies to achieve the right long-term balance. Our expectations for 2022 are for an overall tax-efficient year for most accounts.