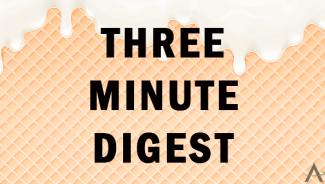 Three Minute Digest for September 8, 2022
"The best way to teach your children about taxes is by eating 30% of their ice cream." - Bill Murray
Inflation, like taxes, eats away at our spending ability, another bite out of the ice cream cone. Unfortunately, inflation continues to eat away at our hard-earned income at rates unseen since the seventies. In an effort to combat inflation the Federal Reserve is expected to raise rates yet again at their upcoming meeting this September 20th and 21st. They have raised rates four times since March, by 0.75% increments at each of its last two meetings.
In its simplest definition, inflation is when the economy is growing too fast and raising rates is one tool to slow economic growth. The concern is an overcorrection and instead of slowing growth – growth stalls or even retreats, and we experience recession. Currently, there are economic indicators that say we are experiencing both problems which is referred to as stagflation.
So how does this affect the markets and our portfolios? Bonds are typically viewed as safe havens when compared to stocks but when interest rates rise, the value of bonds go down, so we exited most traditional bonds early in the rate hike cycle. The good news is that the yield, or income, on bonds rise as a percentage basis during these periods. We plan on re-investing in bonds, but the market is not quite there yet in our opinion.
With regard to stocks, the one-two punch of recessionary forces and inflation which equals stagflation makes for a difficult environment. The Dow has dropped almost 3000 points in the last two weeks. While the stock market had a good day today, our view is that further downside is ahead.
Jack Benny said, "A rich man is one who isn't afraid to ask the salesperson to show him something cheaper."
Who doesn't like to buy something on sale? Well, the markets are on sale, and we feel the possibility of deeper discounts are ahead. With that said, we may still make some purchases at opportune times with a focus on income producing securities.  It is a good time to have a cash reserve built up and the more cash the better. Now is the time to add funds to accounts in preparation.
As always, please feel free to reach out to us with your thoughts and questions. We appreciate the opportunity to serve you.